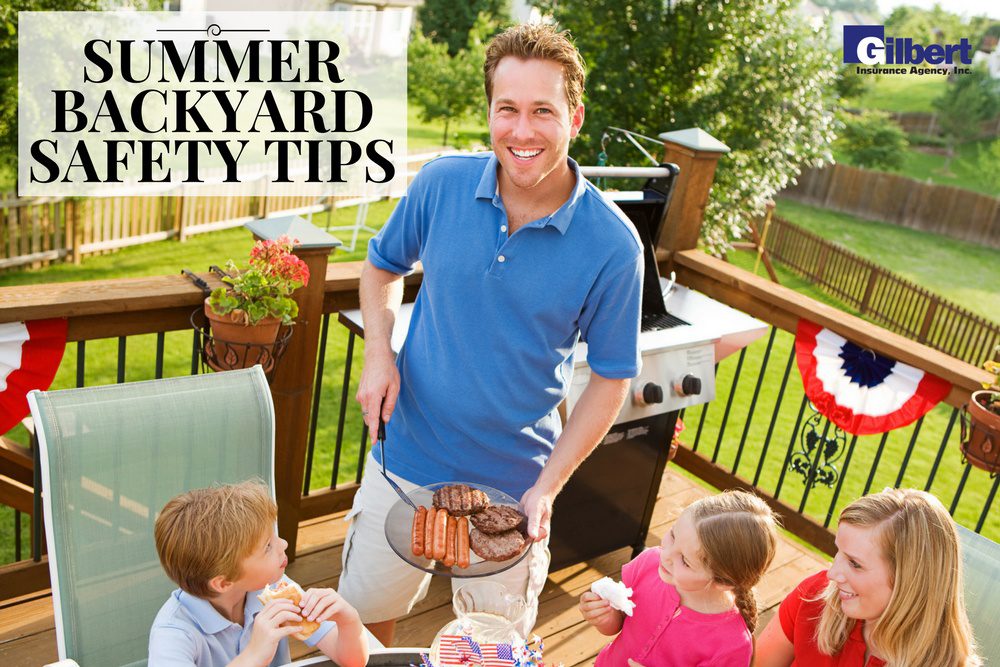 Gilbert Summer Backyard Safety Tips
The colder weather has moved out and we are ready to enjoy the sunshine. Summer is a time for cooking out, lounging by the pool, and enjoying the company of your friends and family. Here at Gilbert, we want you to soak in all the sunshine — and the fun too. That's why we are offering several summer backyard safety tips so you can focus on relaxing.
Grilling
We know you've waited all year to fire up the grill again — but did you know that your grill poses some serious risks? The National Fire Protection Association reports that nearly 9,000 home fires per year involve grills. Here are steps to take for a safer backyard cookout.
Choose a safe location for your grill.

Your grill should be outside to prevent carbon-monoxide buildup. It should be on a level surface more than ten feet away from your home.

Inspect.

If your grill has been out of duty since last summer, do a quick inspection before you fire it up. For gas grills, check your gas cylinder for cracks or holes that could cause leaks.

Do not leave your grill unattended.

This should be a no-brainer, but never leave a lit grill unattended.

Clean your grill.

Make sure to routinely clean your grill. If you don't do this, grease and food remnants can build up and become a fire hazard.
Fire Pits
What a perfect way to end a summer night — toasting marshmallows over an open fire in your own backyard. But make sure that's the only thing heating up.
Choose a safe space for your fire pit.

 Place your fire pit away from your home or low hanging tree branches.

Watch it. 

Never leave the fire unattended and make sure there is adult supervision at all times.

Put it out.

Before going back inside for the night — smother the flames with sand.
Trampolines and Playsets
Backyard trampolines and playsets are a great way to keep the kids entertained while the adults enjoy good conversation. But they can also be an easy place for an accident to happen.
Supervise children.

Always have adult supervision and make sure to limit the number of children on a trampoline or playset at one time.

Secure structure.

Make sure the trampoline or playset is bolted to the ground and sturdy before allowing children to use it.

Inspect for damage.

Weather-worn playsets and trampolines should be addressed before use. Check for rust and rotted wood and make necessary repairs.
Lawnmowers
Lawnmowers can easily cause injury when not used properly. Make sure to follow these tips to safely trim your grass.
Read the manual.

Manuals include safety instructions for each specific model. Be sure to read your manual to know how to safely operate the controls on your mower.

Clear your yard.

Before

mowing, inspect your yard for toys, rocks, or anything else that can fly up and cause damage.

No passengers.

Do not allow passengers on a riding lawn mower.

Protect your eyes and ears.

You should wear protective eye-wear to prevent debris from getting in your eyes and ear plugs to protect from damaging noise.
Water Safety
Do you plan on cooling down in your backyard pool this summer? We have everything you need to know for you and your guests to stay safe while splashing around.
Maintain a secure perimeter.

There should be a perimeter on all sides of the pool that has a self-closing and locking mechanism. You can also install alarms on the gate doors to alert you if someone has opened the pool gate.

Don't let anyone swim alone.

Never leave children unattended when they are in or near the pool. After swimming, remove all toys and floatation devices from the pool to prevent someone from trying to go in after them.

Check the pool area.

 Be sure that entertainment systems and electrical devices are away from the pool and wet surfaces. You should also check for things like loose boards in your deck or even nails that stick out, both of which could cause injuries.

Store chemicals.

Chemicals used to clean the pool should be closed tightly with a child-proof lid and stored out of reach of children.

Plan for an emergency.

In case of an emergency, make sure you have a plan. Have emergency numbers on hand so you can easily access them. Ring buoys, a reach stick, and a first aid kit should all be kept near the pool as well.
Hosting a Party
Who doesn't love a good backyard party? In the midst of all the fun, it's easy to forget the risks that come with hosting people at your home. Here are some tips to help you be a responsible party host.
Remember — you're the host.

You should limit your own alcohol intake so you can focus on making sure your guests are safe.

Encourage guests to have designated drivers.

Did you know that if a guest leaves your party and then gets into an accident, you could be held liable for damages done to a third party? Keep an eye on your guests, and make sure everyone has a designated driver. If they don't have a sober ride home, call them a cab or allow them to spend the night.

Provide food and non-alcoholic beverages.

If you plan to serve alcohol at your party, make sure to provide food and non-alcoholic beverage options for those who aren't drinking (like the designated driver).

Understand your homeowners or renters insurance policy.

It is important to understand any exclusions, conditions, or limitations that your homeowners or renters insurance policy might have. Homeowners insurance usually provides some liquor liability coverage, but it is typically limited, which might not be enough if an incident should occur.

Not sure what your policy covers? Ask your

independent insurance agent

for more details!  
Summer should be a time to relax and spend quality time outdoors. Whether you're hosting a BBQ, play date or just simply doing yard work — these tips can help keep you, your family and friends safe.
At Gilbert, we know we can't prevent accidents from happening, but in the event that they do, it's important to make sure you are covered. Understanding your homeowners or renters insurance policy is the first step to do this. Make sure to talk to your independent insurance agent to discuss your situation and to assess if you would benefit from excess liability coverage through an umbrella insurance policy.
If you have questions about your current insurance policy or how umbrella insurance could be helpful for you — a Gilbert agent is here to help. Generations of families have turned to us for the last 50 years to protect what matters to them most. Call us at (781) 942-2225 or visit our website — an insurance representative would be happy to evaluate your needs and find a plan that works for you.
---