Gilbert Insurance Simplifies the Commercial Auto Insurance Process in Massachusetts, North Shore MA & Greater Boston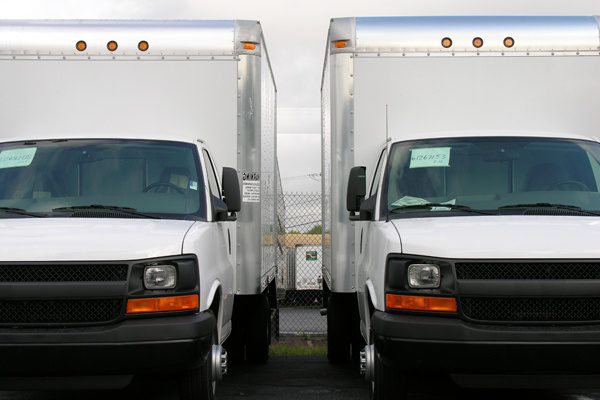 Despite the fact that we now live and work in a totally digital world, computers and mobile devices have yet to replace people as the backbone of every business. Whether you have a small start-up or a mid-sized corporation, you understand that employees are still the key to establishing and maintaining your business' reputation and sustaining your company's long-term success.
However, what you may not know is that these same employees might also be the single most important factor in determining your insurance premiums. In fact, when it comes to your commercial auto insurance policy, there is nothing more scrutinized by insurance carriers than the people you hire, especially those that drive your company vehicles.
What do commercial auto insurers look for?
Each year, your commercial auto insurance carrier will endeavor to review your drivers' records. By evaluating your employees' driving backgrounds, the carrier will see if there have been any accidents or moving violations (e.g. speeding, DUI), which would make them a higher risk to insure and, ultimately, mean higher commercial auto insurance rates for your company. In some cases, having "bad" drivers on your team might actually make you uninsurable by certain carriers.
When you are hiring people for a position that could potentially impact you financially, the last thing you want to do is add someone to the team that you hardly know anything about. Thus, it's essential to work with an insurance partner who can help you manage the employee vetting process with both care and efficiency. Through our thorough consultative approach, the team at Gilbert Insurance will assist you in finding out what you need to know about the employees you are entrusting with your vehicles, as well as your company name, and help you hire the best drivers for your business.
In addition, your Gilbert Insurance professionals can provide advice and support on putting better risk management programs in place. Having a comprehensive vehicle repair, maintenance, and inspection plan and/or strict driver safety protocols are just a few examples of programs that can lower your commercial auto insurance premiums even further.
Our Corporate Auto/Fleet Safety Program, which can be tailored to meet your individual business needs, is designed to help you make the safety of both your employees and all other drivers on the road the highest priority. At the same time, we strongly believe that adopting this customization program can contribute to the improved efficiency of your operations, enhance the profitability of your corporation, and benefit your customers, your workforce, and your community.
Why work with Gilbert Insurance for your Commercial Auto Insurance needs?
With a wide variety of commercial auto insurance carriers offering vastly different rates and coverage requirements, figuring out the proper commercial auto insurance policy for your company vehicles is enough to cause any business owner some stress and anxiety. If you want knowledgeable guidance when selecting the insurer that's right for you and your company, then it's critical to work with insurance professionals who have expertise in the marketplace.
At Gilbert Insurance, we have proudly served the commercial auto insurance needs of businesses headquartered in Massachusetts, New Hampshire, Rhode Island, and most of New England since 1951. From a trucking company's large fleet, to a small business' corporate cars, to an entrepreneur's personal vehicles that are used for business purposes, the team at Gilbert Insurance has the experience and knowledge to help you find the right commercial auto insurance for your business' distinct needs.
In addition, our commercial insurance specialists have a strong relationship with many of the top commercial auto insurance carriers and thus have an in-depth understanding of each insurers':
Areas of focus, such as trucking, contractors, private passenger, etc.
Underwriting criteria
Suitability for specific exposures you may carry
Competitive rates
By partnering with a professional and experienced local, independent insurance agent, like Gilbert Insurance, you will not only get support in understanding the ins-and-outs of commercial auto insurance, but also get help securing affordable rates and comprehensive protection for your drivers, your vehicles, and even the equipment and/or product on board.
Please call us at (781) 942-2225 for a complimentary review of your existing policy or to get a quote. Our team will make the insurance process simple for you by collecting all of the relevant information, filling out the commercial auto insurance application for you, and getting multiple competitive quotes from the carriers that will best serve your unique exposures.
Gilbert Insurance specializes in finding high quality commercial auto insurance for a range of vehicles, including:
Company Cars
Tow Trucks
Semi Trucks
Tractor Trailors
Box Trucks
Trade and General Contracting Vehicles
Service Vehicles
Delivery Vans
Catering Trucks
Commercial Carrier Trucks
Dump Trucks
Concrete Mixer Trucks
Carries for Hire
Snowplows
Rental Cars, Vans, and Trucks
Waste Management and Recycling Vehicles
Taxicabs
Pickup Trucks
Work/Transport Vans
Additional Commercial Auto Endorsements that your Gilbert Insurance professional will discuss should your specific business situation require these enhanced coverages:
Non-owned and Hired Auto Coverage, which provides auto liability coverage while operating a non-owned or rented vehicle
Hired Physical Damage Coverage, which provides physical damage coverage while driving a rented vehicle
Drive Other Car Coverage, which extends commercial auto coverages such as liability and physical damage for specifically listed operators for use of non-owned and hired autos