Gilbert Insurance Provides Master Condo Insurance in Massachusetts, North Shore MA & Greater Boston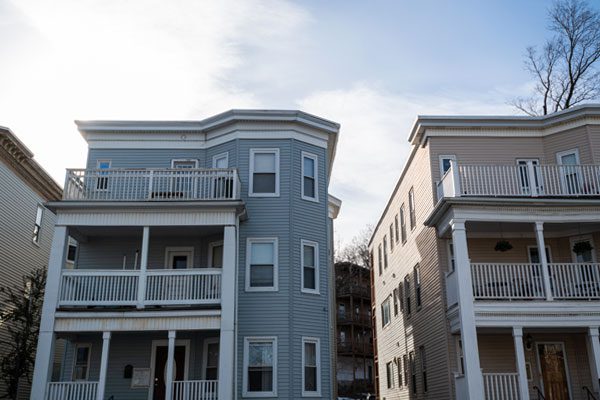 For over 65 years, the professionals at Gilbert Insurance have worked with the trustees of condominium associations across Reading, North Reading, Stoneham, Woburn, and throughout Greater Boston and the North Shore. So, we are very aware of the important responsibility your board has to govern and make decisions for your community. Our experienced and knowledgeable team would like to help make this role easier. We are dedicated to providing you with thoughtful advice and guidance for all your Master Condo Insurance questions and assisting you in making decisions that will be in the best interest of all the unit owners.
First, it's important to understand that there is nothing typical about the standard Master Condo Insurance policy. On the contrary, it is critical that your insurance professional recognizes your condo association's unique requirements and can help define the insurable interests of the condo association versus the unit owners. Thankfully, this will not be a guessing game for you or your agent; instead there is an important road map for evaluating your association's specific needs, called the Master Condo Association Trust Agreement.
Thus, at Gilbert, it is very important, when writing a Master Condo Insurance policy, to carefully review this agreement for specific insurance requirements. What are we looking for? Primarily, we want to uncover what, exactly, the trustees are responsible for insuring, so we can determine what type of insurance coverage the condo association should purchase.
In addition, we need to get to know all about your condominium or co-op community, so we will ask you a series of questions to ensure that the proper policy is written, including:
What is the total number of units?
Are any additional phases or additions planned?
Is your community located in a flood zone?
Is any part of the premises used for commercial purposes?
If you are starting to feel a bit overwhelmed by all the steps required in this insurance process, don't worry! Your Gilbert insurance agent will be here to help you accomplish every single step and to secure the proper Master Condo coverage at an excellent value.
Whether you are a condominium developer still overseeing decisions for a project, or a condo association managing a 100-unit residential community, or a property manager looking to insure a several unit commercial building, Gilbert Insurance will make sure your Master Condo policy covers these key risk areas:
General Liability, which protects against a lawsuit should someone incur an injury on your property.
Property Coverage, which covers the building, common areas, including hallways, elevators, sidewalks, the roof, basement, and building equipment such as a boiler and machinery.
You may also decide to include a special endorsement called "All-in" or "All inclusive" coverage which provides protection for almost all building items in a unit, even fixtures and any structural improvements or additions made by the individual unit owner. It will also pay to replace a unit to the condition it was in prior to the loss. With this approach, the unit owner is usually responsible for covering only his or her personal property and the Master Condo building deductible. However, without this special endorsement, unit owners like you may be required by your lender to provide coverage up to 25% of the value of the unit in insurance, which can cost as much as $500/year. By choosing an "all inclusive" insurance approach, your association may be able to relieve unit owners of significant financial responsibility, which in turn may attract more buyers to your community.
This probably seems like a lot of weighty decisions for you to have to make regarding a Master Condo Insurance policy. Luckily for you, Gilbert Insurance has decades of know-how to share with you that will make you feel at ease and comfortable with this responsibility.
With Gilbert as your insurance partner, you can also be confident that we will be here to support you well after we complete your Master Condo Insurance policy. In fact, one of the many personal services we offer after the policy is secured is to write, or assist you in preparing, a letter to your unit owners that answers common questions such as:
What items are insured under the policy?
What happens if I make upgrades to my unit?
What is the Master policy's deductible?
What does my individual policy need to cover?
Who do I call if I have a claim?
How do I request a certificate of insurance for my mortgage company?
As you can see, we try to think of everything that your association and unit owners will need from their insurance because we feel as responsible as you do for safeguarding your investment.
Ask us about our Risk Management services.
Our team will also gladly support your condo association with risk management services. For example, are you contracted with a snow removal company? If so, Gilbert Insurance will help you make sure that you are named as an additional insured on their policy and, conversely, that they have the right coverage in place for their plowing operations. As a matter of fact, as your insurance partner, we will assist you in verifying that all your vendors and contractors are adequately insured and that the certificates of insurance on file are correct. If you want an insurance partner who will work hard to protect your investment now and in the future, please call us or fill out the form on this page to find out more about our Master Condo policy insurance solutions.

Gilbert Insurance provides condominium associations in Reading, North Reading, Stoneham, Woburn and throughout Greater Boston and the North Shore with a variety of Master Condo policy options to enhance their coverage, including:
Directors and Officers, to protect the board against negligence in decision making.
Employee Dishonesty, sometimes called crime coverage, provides coverage for the theft of condo association funds or other financial misconduct by an association member.
Umbrella Policy, for additional liability coverage.
Non-owned and Hired Auto Coverage, provides auto liability coverage for accidents while using a personal vehicle and conducting association business.