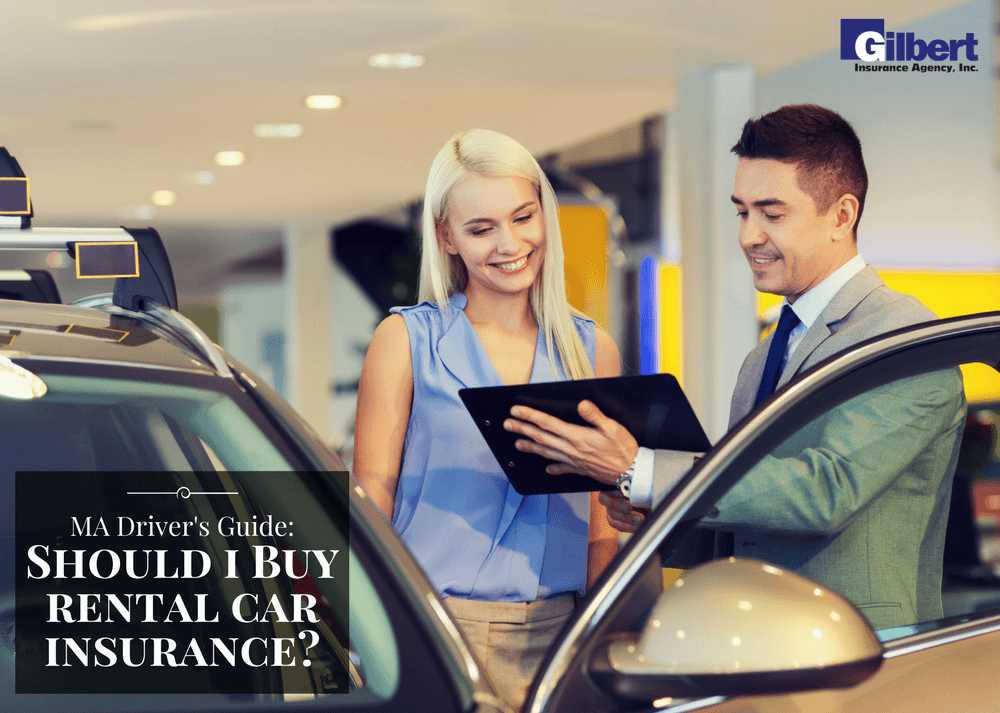 MA Driver's Guide: Should I Buy Rental Car Insurance
Imagine this: you're headed out of town, either for business or pleasure, and need to rent a car. You pick out the perfect make and model and are all set to go, but then the rental agent asks you: "Do you want to buy rental car insurance?" What do you do?
For many people, the answer is unclear. Either you fork over what can seem like a large sum for the added peace of mind or you decide against it and worry about what would happen if you were to get in an accident. Our goal at Gilbert is to help you make informed decisions that always leave you protected. Here are some tips to keep in mind when making a decision about buying rental car insurance during your next trip.
For Personal Use
When renting a car for personal use, there are a few things to think about. For Massachusetts drivers, the Bodily Injury (to others) Personal Injury Protection, Medical Payments, and Bodily Injury Caused by an Uninsured or Underinsured Motorist coverages under your MA Personal Auto Policy apply while driving anywhere in the United States, U.S. Territories, its possessions, and Canada, whether you're driving your own vehicle or a rental car. You will not be covered in Mexico, Europe, or anywhere else in the world. That being said, there are a few things you should check about your personal car insurance coverage before deciding if you should buy rental car insurance:
Check Part 4 of your standard MA Auto Insurance Policy. While Personal Damage Liability is mandatory, the basic limit is only $10,000, which is often inadequate in case of an accident. We recommend increasing your limit to $100,000.
Part 5 of your MA Personal Auto Insurance Policy is called Optional Bodily Injury to Others. This is an optional coverage but we always advise our clients to purchase this because basic mandatory limits are very small and the coverage is restrictive. Once again, you should talk to your insurance agent to make sure that you have a high enough limit on this coverage.
Part 4 and 5 of your MA Personal Auto Policy work as excess coverages, meaning that they cover any expenses left over after the rental company's property damage liability coverage is expended.
These coverages will not, however, pay for damages to the rental car itself, nor will it cover 'loss of use' to the rental vehicle, which is where Collision and Comprehensive coverage on your MA Personal Auto Policy comes in handy.
If you carry Collision and Comprehensive Coverage on your MA Personal Auto Policy, these coverages will follow you with the rental vehicle, as long as you rent a 'private passenger vehicle'. Meaning if you plan to rent a commercial type vehicle, like a U-Haul or Budget truck to move, you will not be covered.
If you purchase the rental car company's physical damage protection, your Collision and Comprehensive Coverage will work as excess coverage after the rental car company's coverage has been exceeded. Remember, this coverage is subject to your MA Auto Policy's deductibles.
Many credit card companies offer supplemental insurance coverage if you rent a vehicle using their card. Make sure to check with your credit card company before deciding to purchase or not to purchase additional coverage.
In general, if you've taken the time to make sure that your MA Auto Policy is set up correctly by following the tips outlined above, you do not need to purchase additional rental car insurance. Keep in mind though, that processing claims through your insurance company will take time. Your deposit on the rental car may be held until the claim is settled and the rental company may hold you personally responsible for the "Loss of Rental Income" to their vehicle. Talk to your insurance agent before renting a car to weigh your options and to figure out if purchasing the rental car company coverage could be worth it for you.
For Commercial Use
When it comes to renting a car for business use, it's a little simpler than renting one for personal use. The basic Massachusetts Commercial Auto Policy does not include coverage for Hired or Non-Owned Auto Liability or Physical Damage Coverage. However, most agents will automatically include Non-Owned Liability coverage to a commercial policy because the cost is usually under $100 a year. Most companies do have a Commercial Auto Extension Endorsement that includes physical damage coverage for non-owned or hired autos, but this needs to be added to the policy and usually costs over $200. Check with your agent to see what your best option is.
Want to make sure your MA Auto Insurance Policy or MA Commercial Auto Insurance Policy is giving you the protection you need or still have questions about buying rental car insurance? Give Gilbert a call today at (781) 942-2225 or visit our website for more information.
---