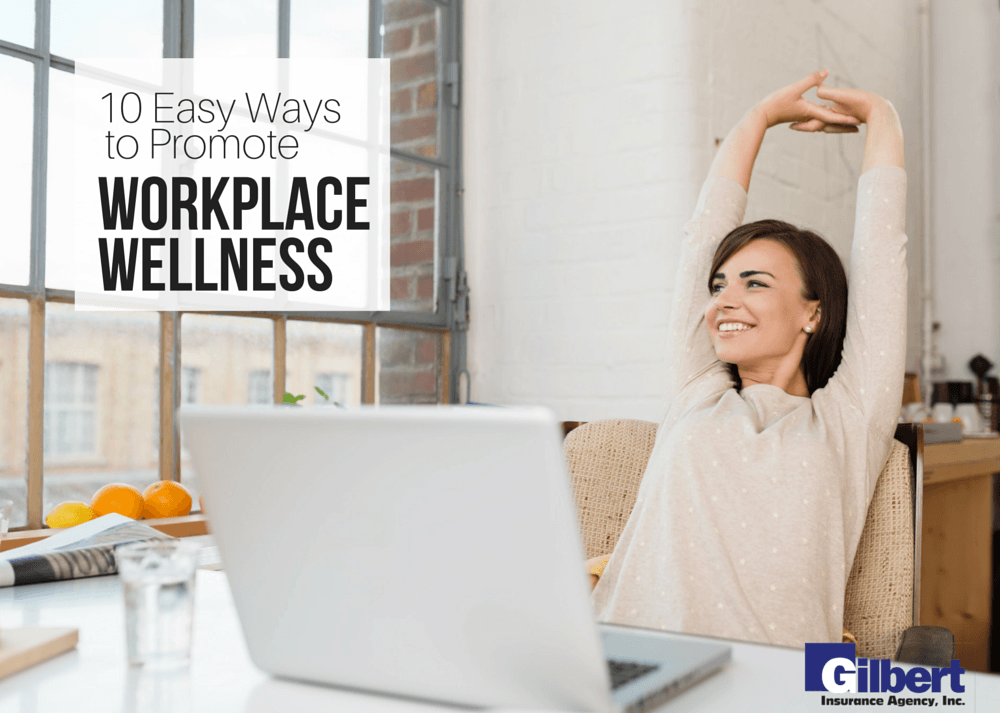 10 Easy Ways to Promote Workplace Wellness
As business owners know, one of the first steps to success is making sure your staff are healthy, happy, and productive. We know that with everything else you have to worry about, however, it can be hard to figure out the best ways to incorporate health and wellness into your office culture. In honor of Employee Health and Fitness Month, we've put together 10 easy tips and tricks that you can implement today to hit the ground running with your culture of wellness!
1) Encourage walking as much as possible
One of the easiest ways to get some walking in is to take the stairs — try posting friendly signs near the elevators reminding people that stairs are a healthy choice! Locate community paths near your office and encourage employees to go for a walk during their breaks or lunch.
2) Remember to hydrate
Ideally, everyone should be drinking about two litres of water per day, or eight 8oz glasses. To encourage employees, consider investing in a water cooler. You can even distribute reusable water bottles to your team — customize them with your business logo to spread awareness of your company brand. #Swag
3) Talk about stretch breaks
Stiff muscles are a common complaint for office workers. Remind your staff to take breaks to stretch out their neck, back, arms, and legs periodically throughout the day. The Mayo Clinic has a great guide of stretches you can quickly and easily do at work.
4) Avoid eye strain
It's hard to minimize screen time, especially at work; there is a good chance your employees are straining their eyes on a daily basis. To avoid this, remind them to look away from the computer for 1-2 minutes at least once an hour.
5) Compete as a team in a charity walk
Sign your office up for an event like a charity 5K run or walk. This will act as a team building exercise while also getting your employees together outside of work for some fun exercise!
6) Provide stability balls as a replacement option for chairs
Stability balls are great substitutes for desk chairs. Purchase one or two and encourage your employees to take turn using them for a short periods throughout the day. This will help them improve their posture while strengthening their core!
7) Consider investing in standing or walking desks
Standing desks are a great way to take a break from sitting while still getting work done. Consider investing in a high table or even a computer stand to turn any table into a standing desk. If you're feeling adventurous, you could even try out a walking desk!
8) Sub in healthy snacks
It's easy to munch on whatever food is readily available, so put in effort to make sure office snacks are healthy. Try providing things like fruits, nuts, and grains. Even better: make it something the whole office can do! Encourage staff to bring in healthy snacks for the whole team or consider having a potluck lunch where everyone can bring in one healthy dish.
9) Organize a group health or fitness class
Whether it's a group walk or a meditation class, offer your employees some time during the workday where they can focus on their health and fitness. If you're looking for something relaxing and easy to implement, try a guided meditation app.
10) Make it a team effort!
Workplace wellness plans only work if your employees choose to participate. Make it a topic of conversation and work to get feedback from your staff about what works and what doesn't.
Remember, adopting health and fitness into your office culture doesn't have to require a lot of effort or money! Try making small changes today and build on your efforts based on what works for your unique business.
An effective workplace wellness program doesn't only keep your team happy and productive — it also protects them from injury on the job. Want to talk about shaping your first wellness program? Give Gilbert a call today!
---